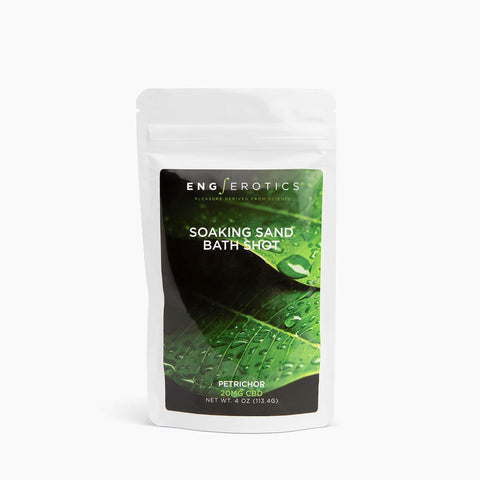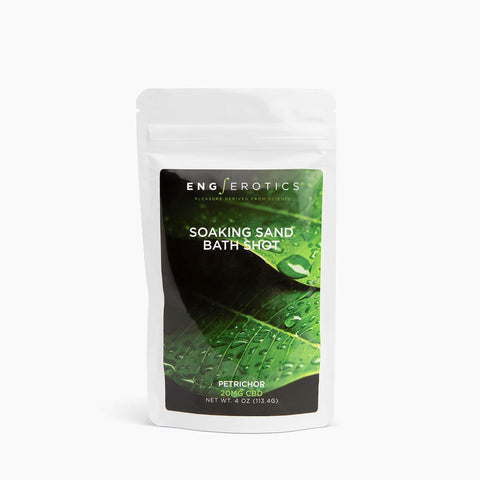 EngErotics Soaking Sand Bath Shot - Petrichor (CBD 20mg)
Regular price
$14.00
Save

$-14.00
---
This 4 oz single-serving Bath Shot is much more than simple bath salts. Three different salts combine with hydrating oil and fragrance to provide unprecedented relaxation and leave the skin feeling nourished and silky.
Soaking Sand Bath Shot evenly distributes 20 mg of pure hemp-derived CBD (cannabidiol less than 0.3% THC) throughout the bath water providing full-body contact that no bath bomb can offer. Six varieties are currently available, several of which include flower buds that float in the tub and/or naturally sourced micas to color the bath water.
This fragrance perfectly captures the fresh smell immediately following rainfall. The scent of pristine water mingles with rich soil, sweet forest ferns, and lush moss to produce a heavenly unisex scent that will transport your spirit to your favorite outdoor retreat. This Soaking Sand Bath Shot contains a blueish green mica to gently color your bath water (washable).