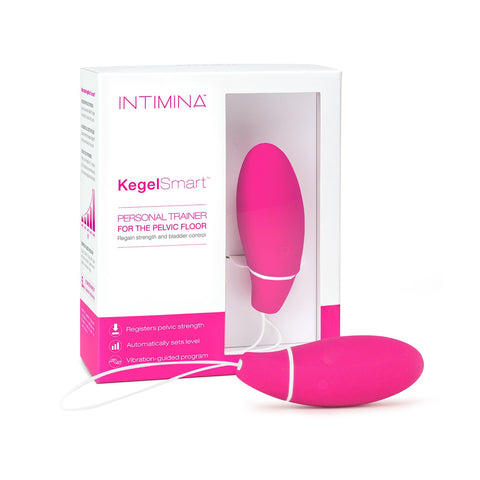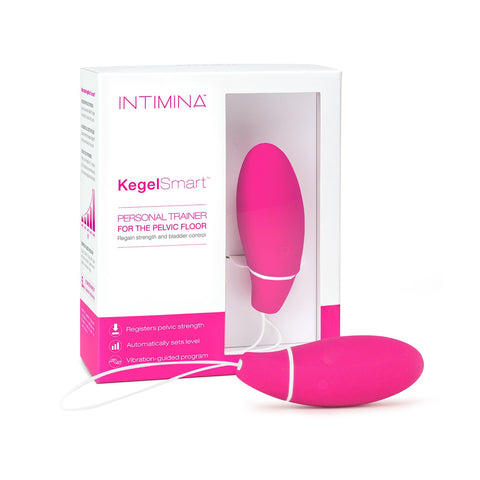 Intimina KegelSmart
Regular price
$89.95
Save

$-89.95
---
Kegel exercises done correctly can tone and tighten your vagina, give you 

better bladder control and enhance your sexual sensitivity...which means more enjoyable sex and orgasms! Unfortunately, most woman don't do them correctly. This revolutionary product is like having your own personal trainer and will insure that your getting the results you desire. 
Just contract when it vibrates and rest when it stops.
Here's to a strong & healthy pelvic floor!
STRENGTHEN & TONE - This personal Kegel trainer uses gentle vibrations to guide women through each pelvic floor exercise so they never have to guess whether they're doing it right or if they're making progress thanks to a flashing light on the side
INTUITIVE AND SIMPLE TO USE - A standalone product, KegelSmart pelvic muscle toner measures their pelvic floor strength and automatically adapts the intensity for each tightening routine to prevent meaningless contractions and deliver results
RESTORE CONFIDENCE - Get real-time biofeedback to easily target pelvic floor weakness and improve overall intimate health in less time. Experience better bladder control enhanced sexual sensitivity, and recover vaginal tightness after birth
COMPLETE PELVIC WORKOUT - One 5-minute routine a day is enough to get stronger, healthier pelvic floor muscles. Women can track their progress through 5 progressive levels and stay motivated with a new routine the higher they go, based on strength and endurance
DEVELOPED TO HIGHEST STANDARDS - KegelSmart is developed with the support of our medical advisory board, including gynecologists and pelvic health experts. FDA-cleared and CE-marked, it is made from medical-grade silicone